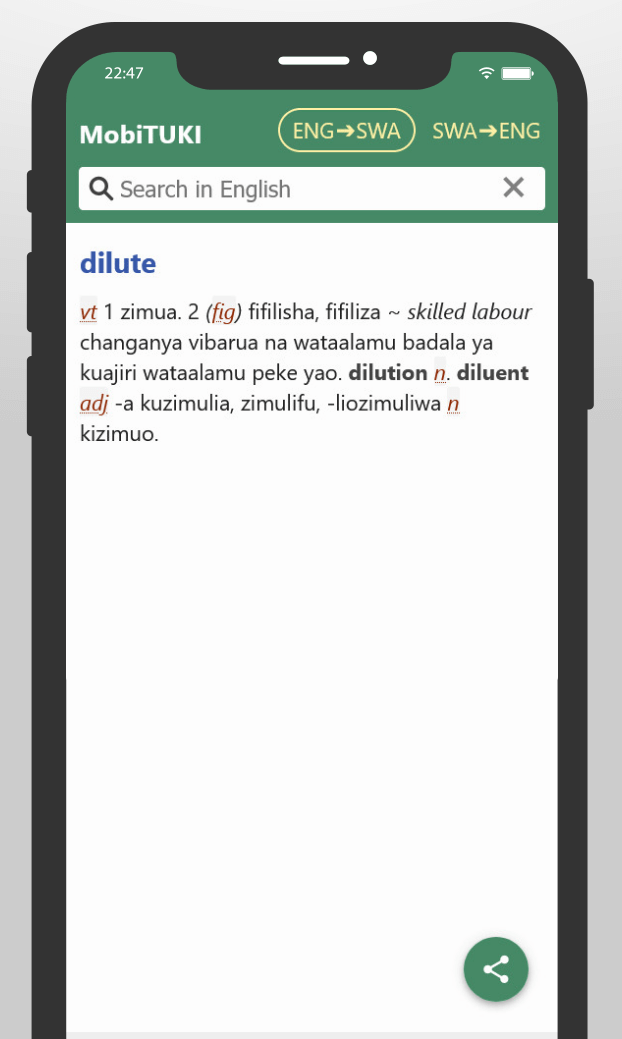 The TUKI English to Swahili Dictionary and its Swahili to English counterpart are the work of the Institute of Kiswahili Research of the University of Dar es Salaam (Tanzania). Here you can enjoy both dictionaries in the form of an offline web app, based on open standards and compatible with most computers, tablets and mobile phones.
This app takes its contents from the English-Swahili dictionary 2nd edition published in 2000 by TUKI (Taasisi ya Uchunguzi wa Kiswahili), which was later renamed TATAKI (Taasisi ya Taaluma za Kiswahili).
This dictionary is based on British English, but also includes the American spelling whenever it differs, as well as numerous idioms and expressions from American, Australian and South African English. Likewise, the dictionary is based on Standard Swahili, which means that even though the dictionary is made in Tanzania, it can be used for learning the Swahili spoken in Kenya.
For a detailed explanation on the structure of the dictionary and how to use it, read How to use the TUKI dictionary.
With MobiTUKI Dictionary English to Swahili you can:
Find the Swahili translation of English words and many idioms and expressions containing them.
Learn the part of speech of each word (noun, verb, preposition…).
Add the web app to your mobile phone's home screen and use it with no Internet connection.
With MobiTUKI Dictionary Swahili to English you can:
Find the English translation of Swahili words and idioms.
Discover the etymology of Swahili loanwords (the original language they were borrowed from).
Learn the verbal extensions (vinyambuo) of Swahili verbs.
Learn the part of speech of Swahili words and, for verbs, also whether they are transitive (elekezi) or intransitive (si elekezi).
With MobiTUKI you cannot:
Find inflected English words (conjugated verbs, plural nouns, etc.)
Translate a sentence.
This website is not affiliated to nor endorsed by the Institute of Kiswahili Studies or the University of Dar es Salaam, and does not represent them in any way.